Tremoline FT36 - Original Fine Tuning Double Locking Tremolo System
FLAT TOP
The flat top surface allows exceptional convenience to guitar players. 
FINE TUNING SCREWS
The solution of sinking the fine tuning screws into the saddle bodies allows comfortable guitar playing without any fear that the strings will go out of tune.
RUST-RESISTANCE
The use of specially selected STAINLESS STEEL alloys leads to very easy maintenance and the longevity of the device.
RETROFITS FR TREMOLOS
This new tremolo allows easy replacement of the existing double locking Floyd Rose type (Original, Pro and Special and their copies) tremolos.
RETROFITS Non-Locking (74.2 mm) TREMOLOS
Also this construction allows replacement of some of the existing Non-locking (2 points 74.2 mm) tremolos with fully functional double-locking tremolo.
UNIT STRING RADUIS R16"
The standard unit string radius of the R16"(406.4mm) gives the same playing feel as when using the usual locking tremolo.
MULTILAYER CONSTRUCTION
Aligning the parts in several different layers leads to a very compact construction.
TREMOLO ARM
The special and unique solution of Tremolo Arm and Sustain Block connection leads to avoiding of backlash and gives very precise feeling.
SADDLE MOUNTING SCREWS
Moving the saddle mounting screws away from the string planes gives serious convenience in intonation adjustment stage.
THICK SUSTAIN BLOCK
The use of a big sustain block is not a coincidence, it leads to increased sustain and better sound quality.
LOW FRICTION
Every contacting point in the tremolo system was very strictly analyzed. The main enemy of sound quality is the high friction in some critical points. Low friction allows the tremolo to return correctly to the central position.
SPECIAL MATERIALS
The use of precisely selected, special, and high quality materials with high hardness and density, gives exceptional sound quality and durability.
ORIGINAL PATENTED CONSTRUCTION
This unique and new device presents the only Flat Top Fine Tuning Double Locking Tremolo System. U.S. Patented.
FINE TUNING
Replacing the old wide head screws with special slotted head screws, and the usage of the guitar pick for adjustment, make the fine tuning process simple, quick, and intuitive.
HIDDEN FINE TUNING SPRINGS
Replacing the usual plate spring with several hidden compression springs into the saddle bodies, turns this device into the lowest profile double locking tremolo. U.S. Patented.
SMALL NUMBER OF PARTS
Practical use of the "LESS IS MORE" philosophy.
STANDARD PARTS
The use of more standard parts gives more convenience in production and maintenance processes.
ADJUSTMENT SCREW
The Adjustment screw gives the opportunity of precise intonation adjustment, without any use of additional special tools like the Intonation Adjusters.
Welcome to the Tremoline web site!
Here you will meet our vision of creating better musical instruments that meet even higher requirements of musicians and that of using the achievements of the technology of the 21 century.
This is a story of how the sum of uncountable small improvements have become real inventions through Passion, Creativity, Persistence and Faith.
Now we are very pleased to introduce you to our project:
Tremoline FT36 - the Only Flat Top Fine Tuning Double Locking Tremolo System, a new ORIGINAL tremolo system PATENTED in the USA, Germany and other countries.
This project started a few years ago as an idea, which came from the hobby of an engineer and non-professional musician with a passion to rock music.
Actually at the bottom of this project there were two very important things:
HUGE UNSATISFACTION and asking the RIGHT QUESTIONS, as following:
WHY do the screws protrude above the top surface and constantly hinder my hand?
WHY do the strings sound so poor and without any sustain?
WHAT are the reasons to all these problems?
WHO are the people trying to find the answers to these questions?
WHAT were the solutions proposed by inventors and manufacturers?
HOW can I find a solution to all of these problems?
HOW can the science of engineering help me?
HOW can I propose a smart and workable solution as a piece of art with a remarkable design?
You can find more specialized information and attached technical documents about our Original TREMOLO SYSTEMS and LOCKING NUTS on the exact subpages.
Thank you for your attention of visiting Tremoline web site!
Sincerely yours,
The Tremoline Team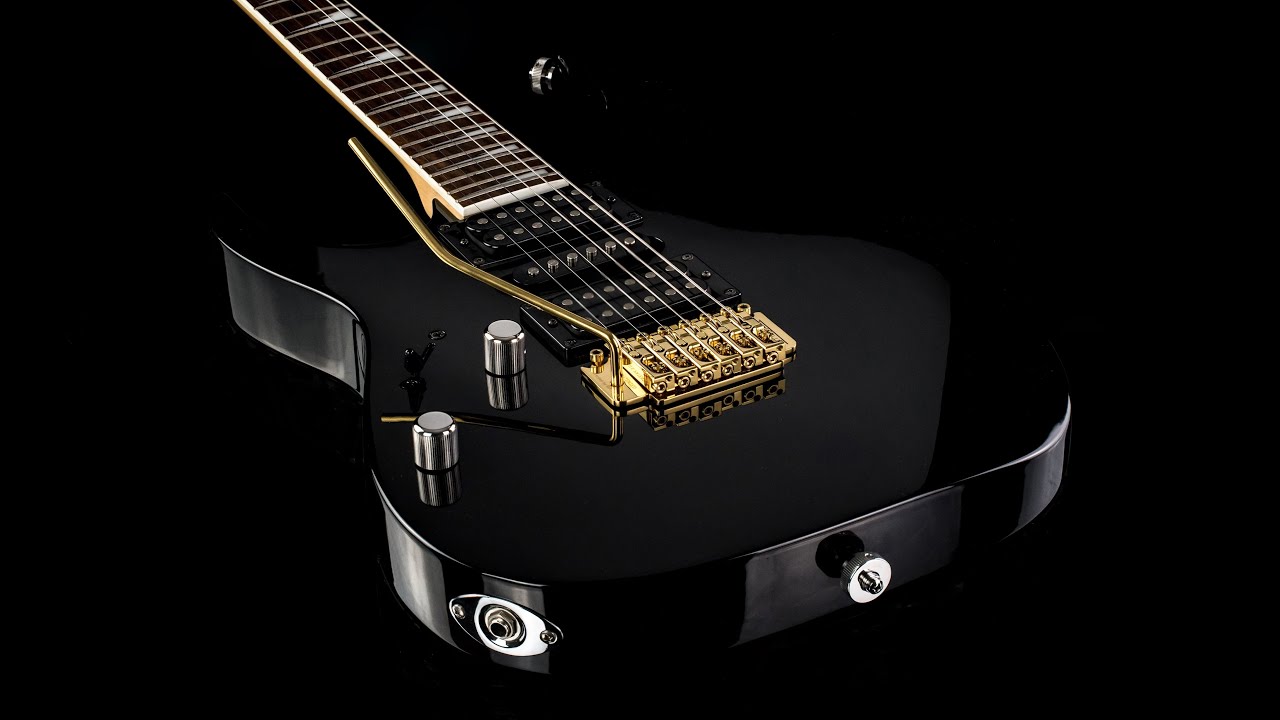 We strongly believe that the best way you can LOOK, LISTEN TO & FEEL the advantages of the Tremoline FT36 are real performances that you can find in following Instagram and YouTube links.
>>> Tremoline FT36 - an authentic live performance on the BMR2021 stage – June 5th, 2021 (Jun15-instrumental). Easy and convenient use of Vibrato and Palm muting technique.
>>> Tremoline FT36 – a REAL LIVE TEST on the BMR2021 - An authentic live test of the Tremoline FT36 on the BMR2021. Proven convenience and stability.
EytschPi42 - Tremoline review
"The Floyd Rose Tremolo was groundbreaking, but one would think that nowadays we can come with something more elegant, easier to set up and way less bulky... well, someone did!"
TREMOLINE Ltd. is based in Sofia, Bulgaria and specialized in research and development, design, engineering and production of ORIGINAL and INNOVATIVE Guitar Tremolo systems and hardware.
The company is family owned, founded by Teodor Maslarov who is an engineer (MSc degree in mechanical engineering at Technical University – Sofia), inventor (granted patents in US, Germany …), entrepreneur, self-taught enthusiast guitar player and passionate listener of Rock music.
OUR MISSION
The achievement of BETTER PERFORMANCE through real constant improvements in two directions - MORE CONVENIENCE and SOUND QUALITY.
OUR PHILOSOPHY
Through the whole process of development and improvement we realized and convinced ourselves in the power of KAI-ZEN philosophy and continuously Searching for PERFECTION.
We are REAL GUITAR PLAYERS and we have always tried to reach the perfect performance.
We are REAL ENGINEERS and believe in our knowledge, skills, and way of thinking.
We are REAL INVENTORS and we have always tried to find improvements in places where others would not dare to try.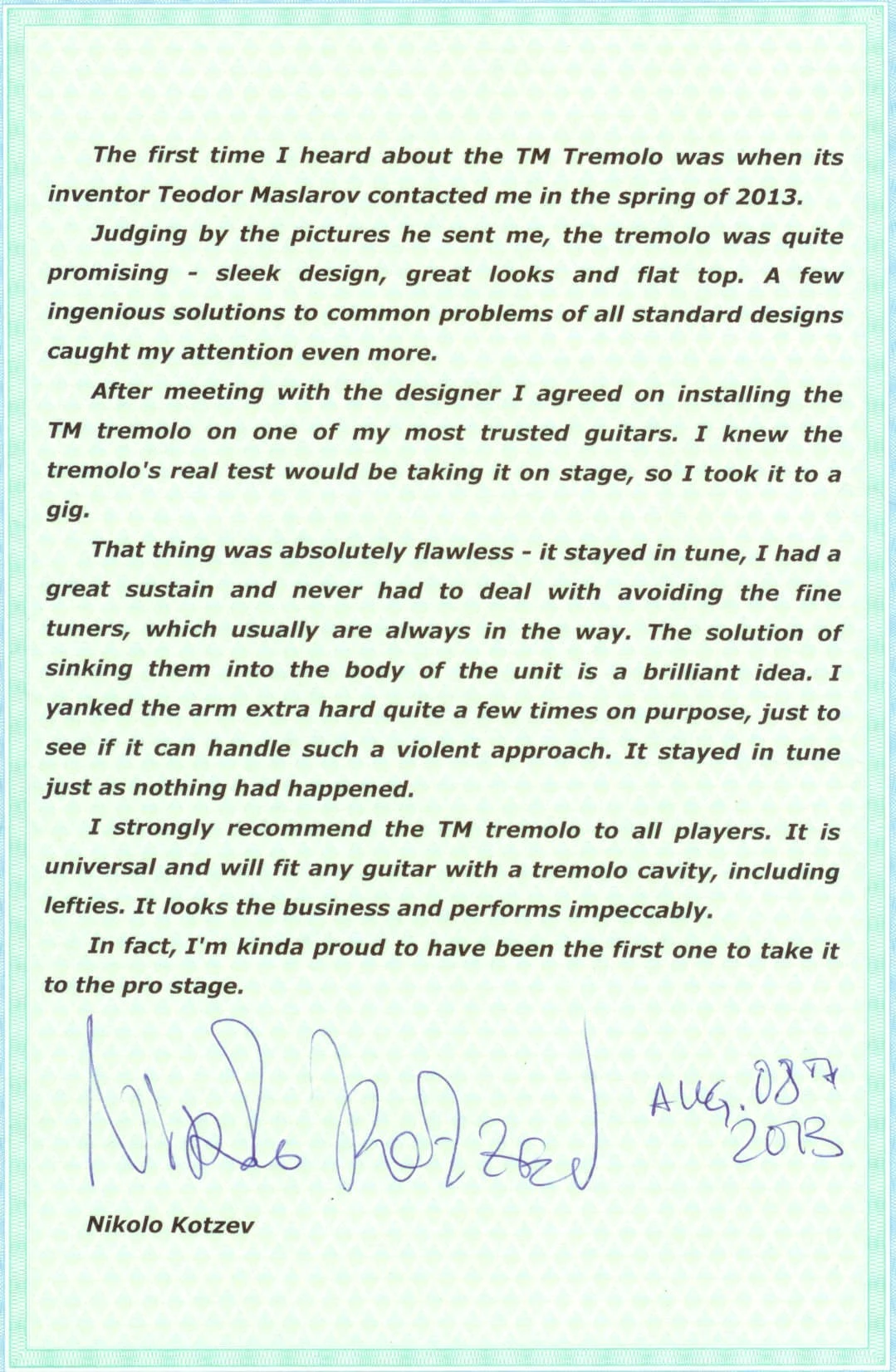 Nikolo Kotzev is a Bulgarian guitarist, violinist, songwriter and producer, perhaps most famous for his 2001 rock opera Nostradamus and his band Brazen Abbot.
Over the years he has worked with many musicians, some of whom are Glenn Hughes (ex-Deep Purple, ex-Trapeze), Joe Lynn Turner (formerly of Rainbow and Deep Purple), John Leven (Europe), Jorn Lande (Masterplan) and Robin Gibb (Bee-Gees).
In addition to being a recording artist, Kotzev has also produced and mixed albums by other bands, such as Saxon, Molly Hatchet, Rose Tattoo and Messiah's Kiss.
In 2011 Kotzev started a band in Sofia, Bulgaria, named Kikimora, which plays hard rock with Bulgarian and English lyrics.
*TM tremolo is the predecessor of Tremoline FT36.
11 Dragovitsa str.,
1505 Sofia, Bulgaria, EUROPE
e-mail:info@tremoline.com
ASK FOR OFFER!
We will be very pleased to receive your opinions, notes and proposals.
Thank you for your interest to Tremoline Innovative Solutions!